THE BUNGALOWS ON THE LAKE AT PRAIRIE QUEEN
Located in the Papillion community, we are a new lake front neighborhood that blends heartland luxury and traditional elegance. Our distinctive 1 to 4 bedroom floor plans offer style, sophistication, and impeccable quality down to the last detail. Residents enjoy a lifestyle of peace, prosperity, and gratitude. Each unit includes beautiful flooring, solid surface counter tops, stainless steel appliances, full size washer & dryer units, and more! Our smoke-free community offers stunning lake front view and quick access to local attractions. Select apartment homes are pet-friendly. 
We can't emphasize enough that we have done our best to combine all of our lessons learned from past experience to create a wonderful living environment. Check out some of the design details we are being mindful of below.  
For more specific information (such as floor plans and what is available), please see the property specific website at www.bungalowsonthelake.com.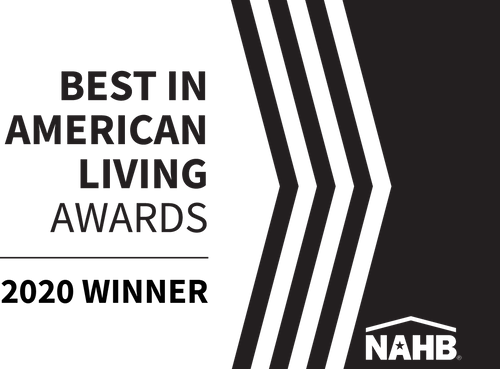 NAHB BEST IN AMERICAN LIVING AWARD WINNER
Bungalows on the Lake at Prairie Queen was awarded the National Association of Home Builder's Best in American Living award for 2020. We are honored to have received this award and look forward to continuing to provide exquisite homes for our community.
Private Entrances

Each apartment home has its own front entry door, meaning you can go straight from parking your car directly into your apartment home. 

More Exterior Sides & Windows

These buildings are smaller than a typical apartment building, never getting larger than 8 apartment homes to one building. This means more exterior sides and more windows. More windows will allow for more natural light to create a homier feel and let you enjoy the lake views. In addition, with smaller buildings, there are fewer shared walls hence minimizing the possibility of sound transfer between you and your neighbors. 

Loft Style Homes

Of our available floor plan types, are multiple two story apartment homes. The layout of some of these buildings ensures that bedrooms aren't stacking and minimizes that number of shared walls in an attempt to minimize the possibility of sound transfer between you and your neighbors. 

Unique, Large Floor Plans

We have a variety of floor plans available so you can find the layout that works best for you. One, two, three, and four bedroom layouts give you plenty of options and each of these layouts have been thoughtfully planned. Needing more space? We have floor plans ranging from 740 square feet to 2,352 sq feet. 

Interior Finishes

We like to emphasize what you will touch and feel everyday - interior finishes! So we use stainless steel appliances, hard surface countertops, 42" upper cabinets, ceramic tile and hard wood flooring, full size washer and dryers, and more. We notice things like lighting in the living room and above the shower, and we like to incorporate extra touches (like a Japanese bidet). 

Garage Stalls

We will have a combination of detached and attached garages available. Understanding Nebraska weather and the desire to have a warm car in the winter, we have planned for a higher number of garage stalls than a standard apartment complex. 

No Common Hallways

These buildings function more like homes. There are no long common hallways to walk, and your space is your space. 

Closer Parking & Fewer Parking Lots

The community has uses an alley system ties into the public streets. These smaller footprint buildings with no common hallways also allows us to diversify the parking because we aren't like a typical 40-90 unit building where everyone is trying to use the same door. Combine the smaller buildings within individual private entrances, now where your ideal parking spot is, isn't the same as 50 other people. Your parking spot on the street or in your own garage isn't in a big parking lot. 
Interior Finish Examples:
Exterior Finish Example: